Are you itching to try van life, but have young kids and maybe even a pet? Did you know there are campervan rentals available just for families? 
Hear from one family, the owners of Explore VanX, on how they used sCAMPer Van's family-friendly campervan rental to take their toddler and dog out on their first family campervan adventure.
Gearing Up to Hit The Road in a Van Rental
It had been two years since we hit the road in a campervan. The pause was reasonable due to having our son, Summit. Prior to Summit joining the family, we were full-time "van lifers" for one full year and then on and off for months at a time for a second year.
We were no strangers to van camping and had always had our faithful canine companion, Luna, traveling along with us. Now that Summit was nearly two years old, we were feeling the itch to get out again and decided to plan an inaugural campervan trip for the entire family.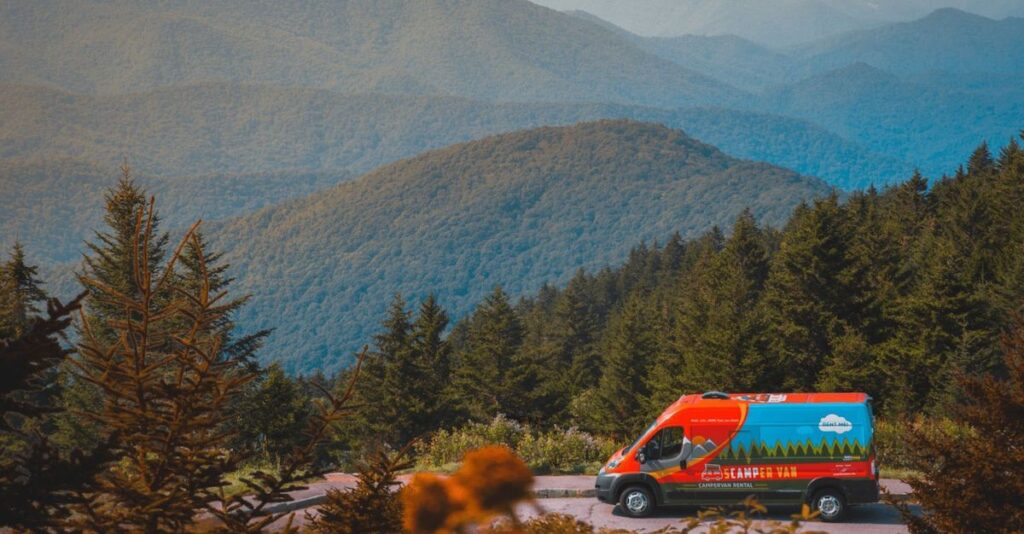 Choosing sCAMPer Van for our Road Trip
Planning any trip with a toddler is daunting. We didn't have our own campervan any longer, so we decided to look into a rental option. Through Explore VanX's massive business directory, we were able to find a reputable campervan rental agency within a few hours' drive of our brick-and-mortar home base. Most campervan rentals even allow pets, so it was easy to find an option that allowed Luna to join in on the fun! What's a good van camping trip without your trusted dog, anyways?
We decided to partner with sCAMPer Van out of Atlanta, GA, for our week-long trip. The rental agency offered what looked like the perfect setup for van life with kids. This left us only to worry about making Summit's first campervan adventure a positive experience.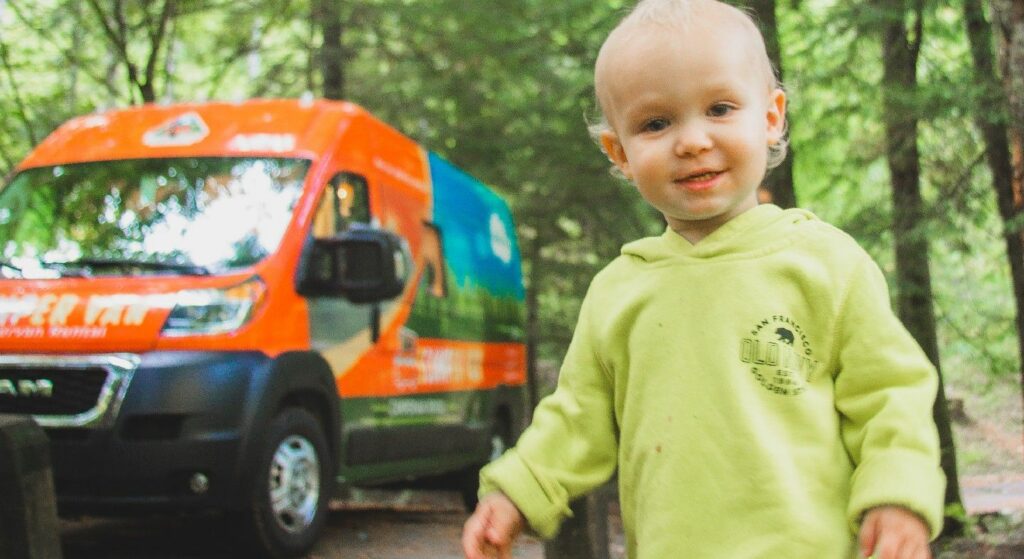 Best Parts of the sCAMPer Van Rental
Our young Explore VanX family thoroughly enjoyed sCAMPer Van's rental. The specific van we rented was ironically named VanX, being their 10th in the fleet.
We loved how the van was laid out and found it to meet the needs of van life with our son well. 
Some of the best features of our sCAMPer Van rental included: 
Queen-sized bed with a comfortable mattress

Additional seating in the back that seats two people and folds out into a full-size bed

Simple foot-pump water system with a sink

Fresh and grey water tanks

Inset two-burner propane stove (no set-up needed)

Lithium-ion battery bank

onboard with multiple outlets and USB ports for charging electronics

The double seat was, in our opinion, the best addition to the van because of the ease of installation and removal of a car seat. This is something non-negotiable when traveling with a toddler. It was also a high-quality seat, and we trusted it in the unlikely event of an accident to keep Summit in place and safe. It also allowed our pup Luna to have a seat of her own.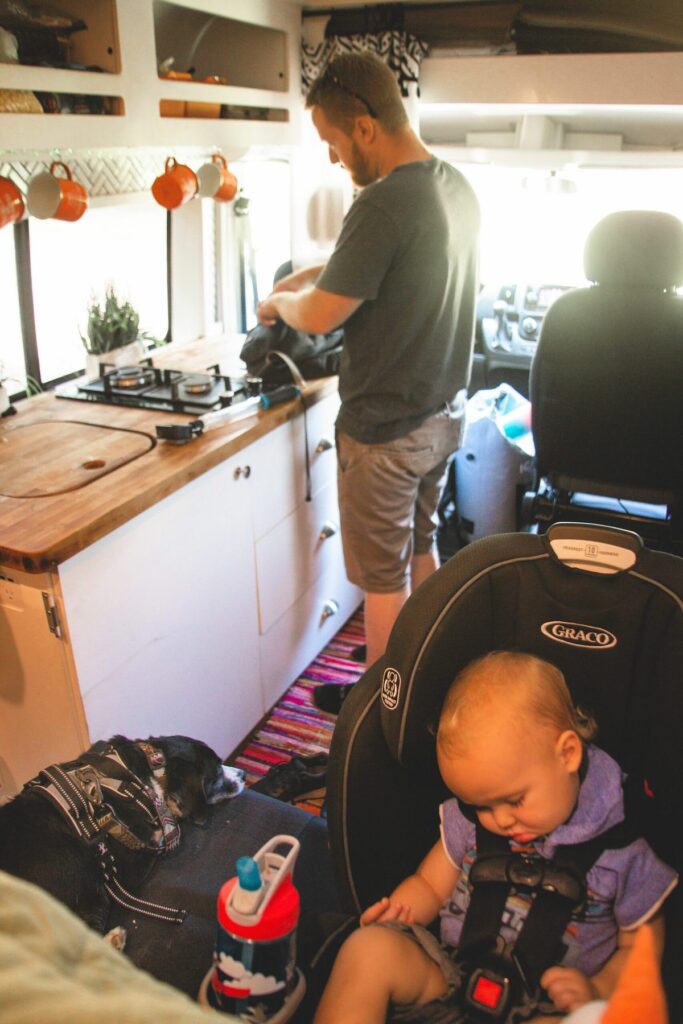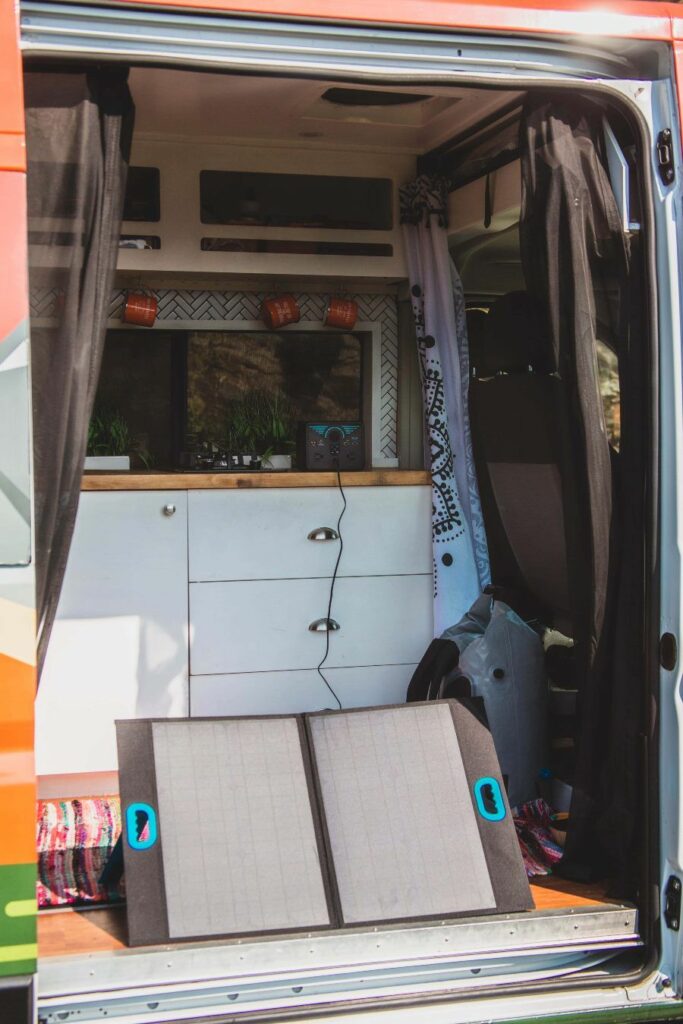 It was a basic but extremely functional setup. Perfect for a family campervan rental for a week, although if you were living on the road with kids full time, a more robust setup would be helpful.
If you are more used to tent camping, the best thing you can count on when camping in a van is the ease of setting up camp. The steps are:
Pull in

Set up chairs

You're done!

No tent to set up. No unpacking. No hauling gear into a primitive site. Everything is there and ready to use. Campervans make camping easier and more accessible for anyone, especially those camping with kids.
Wrapping Up: A Family-Friendly Van Adventure with sCAMPer Van
After six days in the campervan rental, we set out for the 6+ hour trip to drop off the campervan and head home. Summit slept most of this ride, surprisingly, and we made it home just fine.
As our first time experiencing van life with a toddler, we found that distance driving was definitely the hardest part for Summit. When we traveled in a camper van full time before, it was easy for us to drive 3-4 hours a day, stopping at 3-4 hikes or locations to stretch out our legs as needed. The longer driving times weren't an option with Summit unless he was sleeping, so we had to adapt plans to allow for more breaks.
Our biggest question about our family campervan vacation had always been if we could do van life or not comfortably with a toddler. Thanks to sCAMPer Van, we can happily say yes after this trip with Summit! The campervan rental we used was great, but would not be ideal for a long-term living space in a van with kids. We will dive into that in another blog!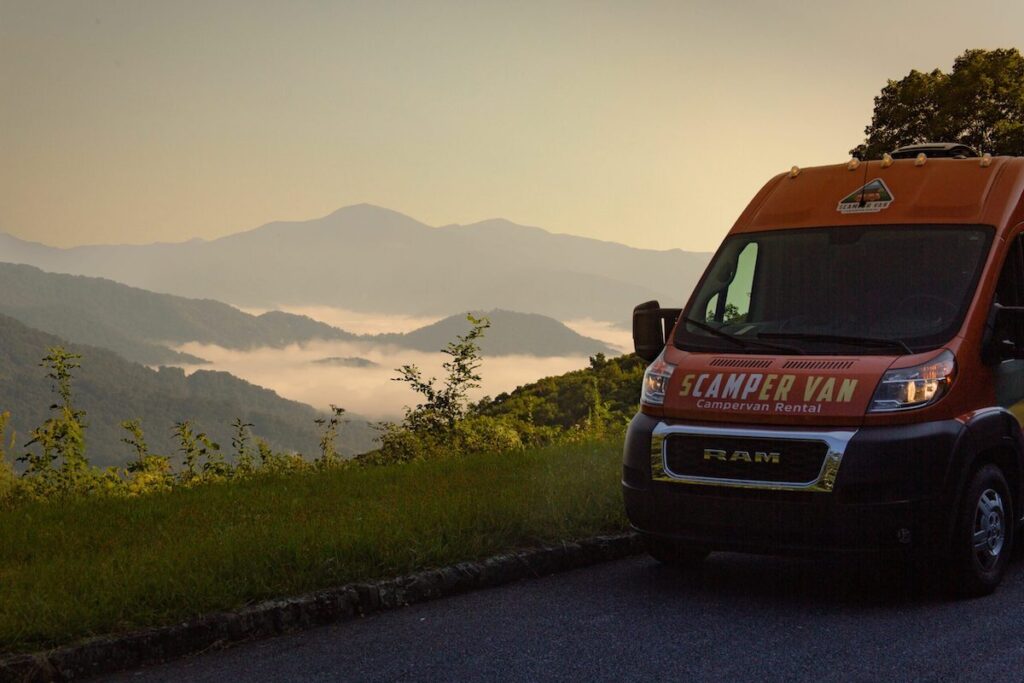 How to Rent a sCAMPer Van in 7 Easy Steps
Renting a sCAMPer Van is pretty straightforward. 
If you're looking for camper van rentals around Atlanta, head on over to

sCAMPer Van's Book Now page

. 

Select one of the sCAMPer Vans available that meet your needs. 

Select your dates.

Enter your contact information.

Continue through the online reservation process to book your sCAMPer van rental.

Pick up your sCAMPer Van at the location and time you selected.

Go on your family adventure! 

If you're looking for a camper van rental in another area, check out the Explore VanX campervan rental directory to find a campervan rental near you!
This trip was powered by: