So, you've decided to make the leap into vanlife! Welcome aboard, friend! We at Explore VanX know a thing or two about the van life must-haves required to ensure a successful launch into van life. We've created the ultimate vanlife checklist with all the van life gear to get you started with confidence on your new adventure. 
Keep in mind these are only our suggestions to get you started. Everyone is different and will ultimately fine-tune their specific setups to suit their particular needs as they spend more time discovering their unique path. Consider this your van life for beginner's van life checklist that will evolve over your time on the road.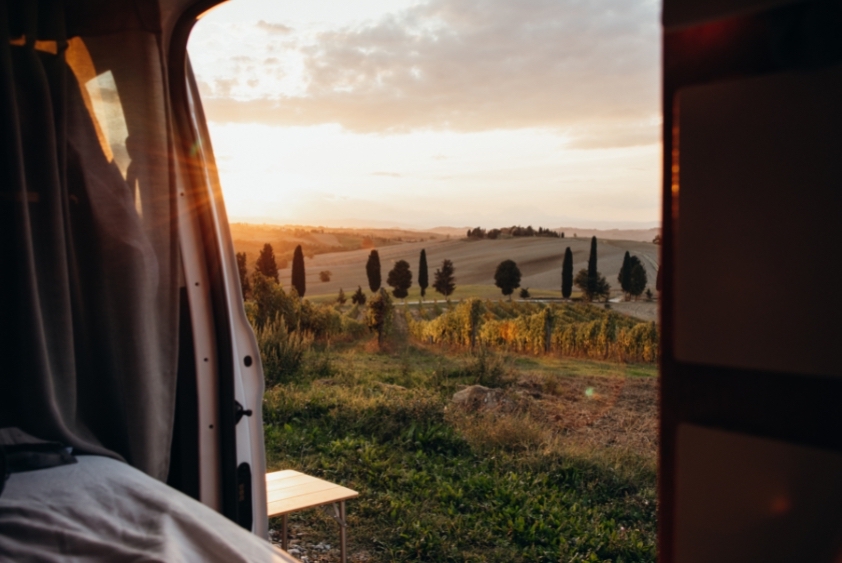 Ultimate Packing List for Vanlife Beginners
Van life must-haves will be different for everyone, but there are a few basics necessary for everyday life and basic comfort. Read on to learn about our favorite van life gear.
At the top of our list is food and food storage. When you're limited on space or even types of storage, you have to be much more purposeful with your grocery shopping, meal planning, and storage. 
You'll want to ensure you have a decent cooler or onboard fridge to keep your perishable items fresh. If you don't have a refrigerator in your van or don't have room for a cooler, you'll just need to be mindful of the groceries you keep on hand and stick to non-perishable items like canned food, bread, citrus fruits, bananas, peanut butter, and even pre-mixed pancake mix that only requires water. 
Here are a few of our favorite food storage items: 

Try making a list of meal ideas for breakfast, lunch, and dinner based on the number of days you will be away from a grocery store. We suggest adding in a few of your favorite snacks as well. You'll appreciate the splurge, especially if you are having to make simpler meals due to your cooking setup. 
Another tip is to have a way to cook inside and outside your van if possible. Pick up a camp stove and a little table if your van has a built-in stove. Let's just say there are certain smells you can never get out of your van. While dinner may have tasted great, that same smell wafting over your pillow later that night might come back to haunt you. Cooking outside on a nice summer evening is just a wonderful experience in itself as well. 
Always be aware of wild animals when cooking outside, and if you're in bear country, we don't suggest cooking that steak or burger on an outside grill.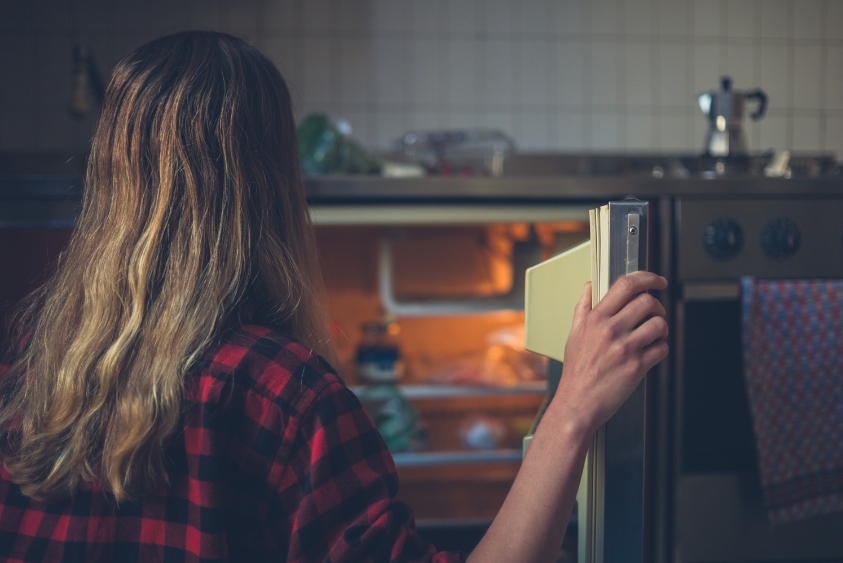 When sleeping in a van, you'll need to be prepared for fluctuating temperatures, as well as external elements that might disrupt your sleep. 
Make your bed comfortable! If you like sleeping in a sleeping bag, great. But when you have a dedicated space for sleeping, you can go all out with blankets and a comfortable pillow. Just because you're sleeping in a van doesn't mean you can't have a comfortable bed and a good night's rest.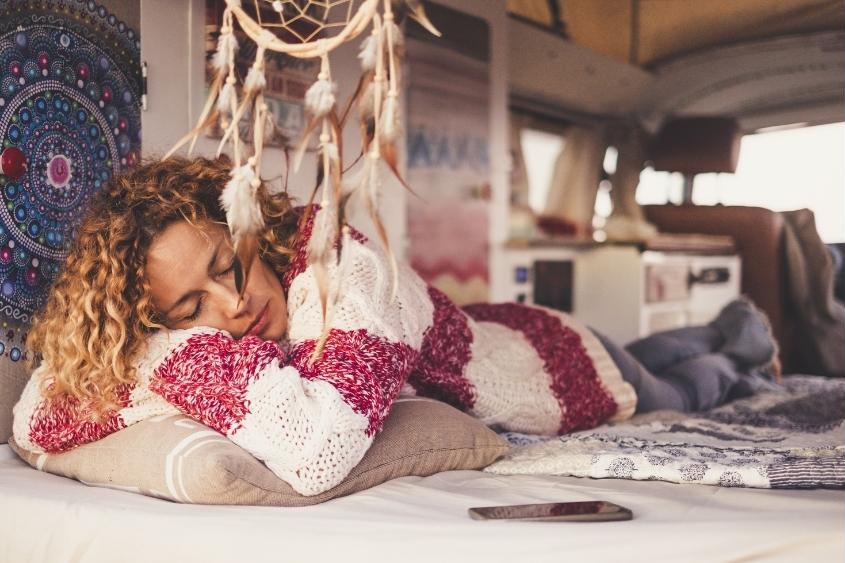 Here are a few things to add to your van life checklist that will make your night more comfortable: 
Versatile bedding goes a long way when sleeping in a van. You'll want at least one warm blanket for cooler nights and a simple throw for warmer weather. 

If you expect to sleep in very cold environments and have a power source, you can even splurge on a

12-volt electric blanket

.

Don't forget a comfortable pillow! A perk of sleeping in a van is that you typically have room for a few luxuries that you might not have if you were simply car camping. 

Have

earplugs

or white noise available. Sometimes you'll sleep in a location with noise outside your van, such as a truck stop or busy campground. A pair of earplugs or some background music might be your solution for a restful night's sleep.

Window covers

will help not only with keeping your van at a more comfortable temperature, but also will help keep light out on long summer nights or if you're parked in a lot with lights on all night. 

If you don't have a heater built into your van, we've heard great things about using a

Mr. Buddy propane heater

. Just be sure to keep a window cracked for ventilation. 
If your van is equipt with a heater and/or air conditioning, be sure to monitor power consumption when in use and save power use for when it's needed most. 
Even if your van has interior lights, bring a few solar or battery-powered lights along. Flashlights and a headlamp are helpful, too. 
We live in a digital age, and keeping our devices powered up is necessary to use online maps, connect with friends and family, and research our next adventure.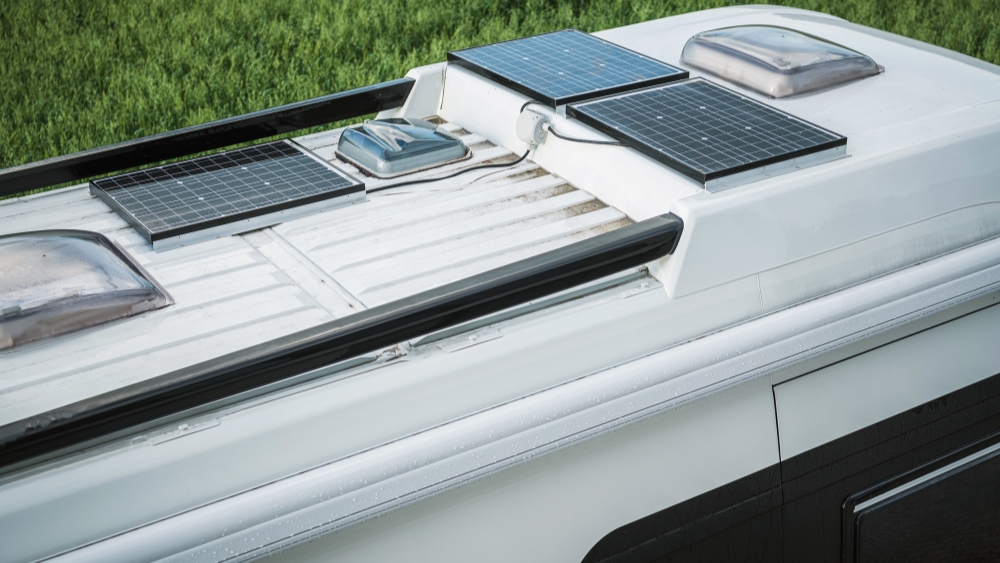 Whether you have a battery system that charges as you drive or you've implemented the latest and greatest solar system, make sure you understand your power system. You don't want to be caught with a dead battery and no way to get help.
If you don't have a power system set up in your van, you can utilize a Jackery or a simple emergency power station to make sure you have the ability to recharge your phone or other electronic devices.
Just because you have everything nicely organized the day you leave on your trip doesn't mean it will stay that way. We know space is limited, but remember that you will inevitably generate garbage and dirt inside your new home. 
Having a few cleaning tools and products on hand will allow you to manage a mess and make your life much more comfortable.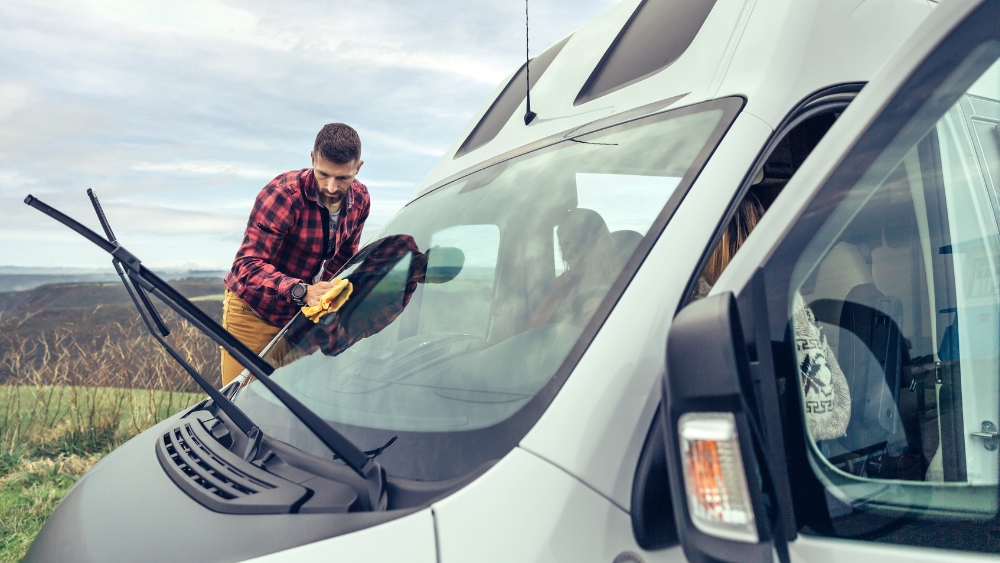 A few cleaning items that will come in handy are: 
Garbage bags

Small

dustpan and broom

set

Reusable, washable rags

Biodegradable dish soap and cleaning products

Small container with a good seal for any items that small, like food scraps

Trash bags are also great for other things like make-shift ponchos for unprepared friends, a temporary laundry bag for swimsuits, or covering a broken window in a rainstorm.
Finding dedicated spaces for laundry and trash will help keep your small space organized.
The excitement of moving into your van can be overwhelming. So much so that you might forget about the amenities you'll appreciate outside of the van when you're parked for a day or longer.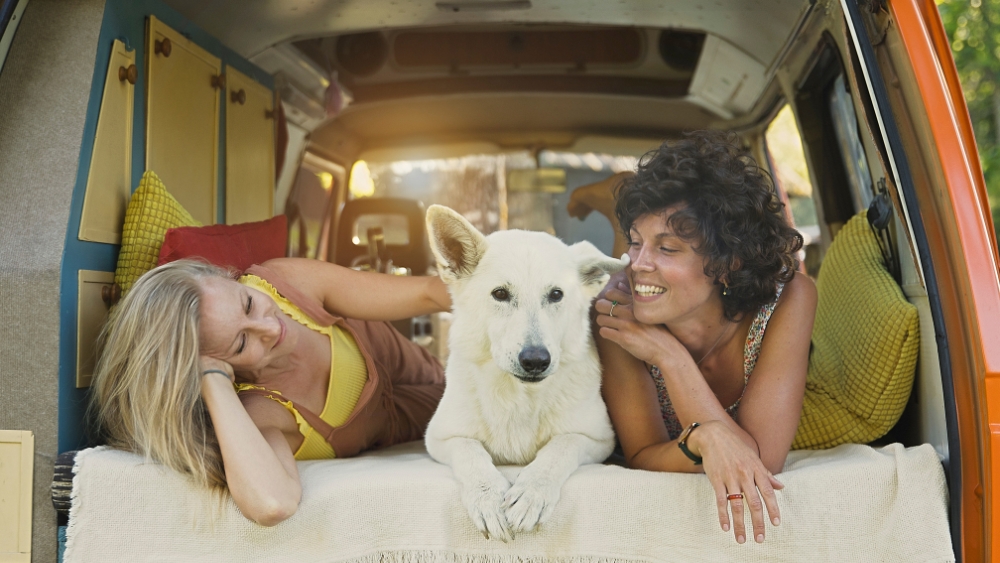 A few of our favorite "outside" items are: 
Comfortable camp chair (this is literally your couch now!)

Outdoor rug

Portable table

Hammock 

Small hand saw or hatchet

Solar lights

Portable canopy
You'll learn quickly that there's a big difference between your in-home bathroom with plumbing and basic personal hygiene routines while living in a van. Even if you have a large water tank and a shower in your van, some items will help you feel fresh and clean in-between visits to a facility with unlimited hot water.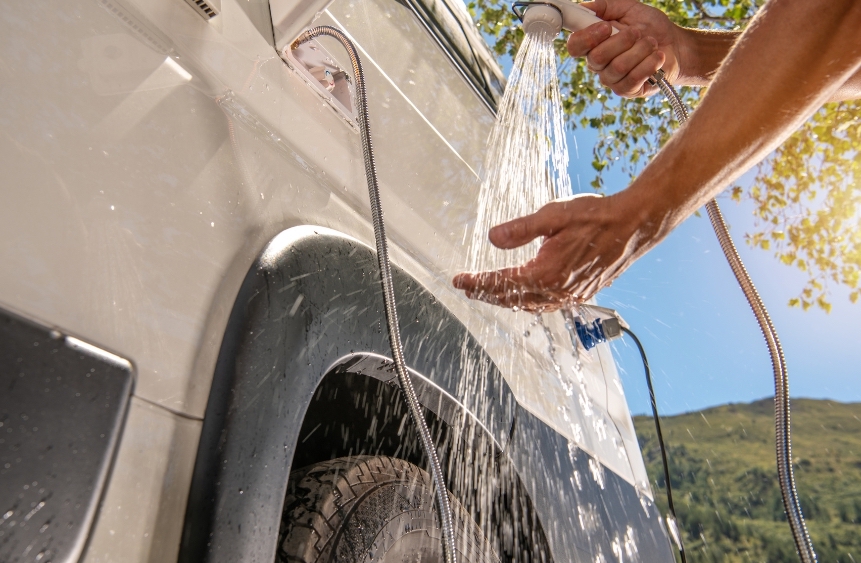 After many days (and might we say, years) on the road, here are our favorite van life must-haves to add to your van life checklist: 
A

gym membership

will be your best friend while on the road. You can also pay per shower at truck stops and many recreational centers, although sometimes this route is more expensive than a monthly gym membership. 

A

solar shower

is a great way to stay clean in between visits to a regular shower. They come in multiple sizes, and will typically heat up within a few hours of laying in direct sunlight. 

Wet wipes will also help you freshen up before bed or after a long hike. 

Dry shampoo

or even plain baby powder can help your hair not feel greasy after a few days without a shower. 

A

portable toilet

with

waste bags

is good to have on hand if you don't have a composting or cassette toilet in your van. Sometimes terrain does not allow for digging a proper hole, and some places even require that you use a

wag bag

instead of digging a hole.

And of course, don't forget your usual toiletry items, such as a toothbrush, toothpaste, hairbrush, shampoo, etc… 

Another thing to consider here is managing dirt and wet clothing. Again, you'll need to think about these things and how they will affect your confined space. Plan accordingly.
You never know when something might go wrong, and when you could be miles away from civilization, it's important to have a good first aid kit on hand. 
You can pick one up at your local pharmacy or an outdoor sporting goods store like REI or Camper's World. Make sure you get one that's appropriate for the time you could be out, and the number of people (and pets!) traveling with you.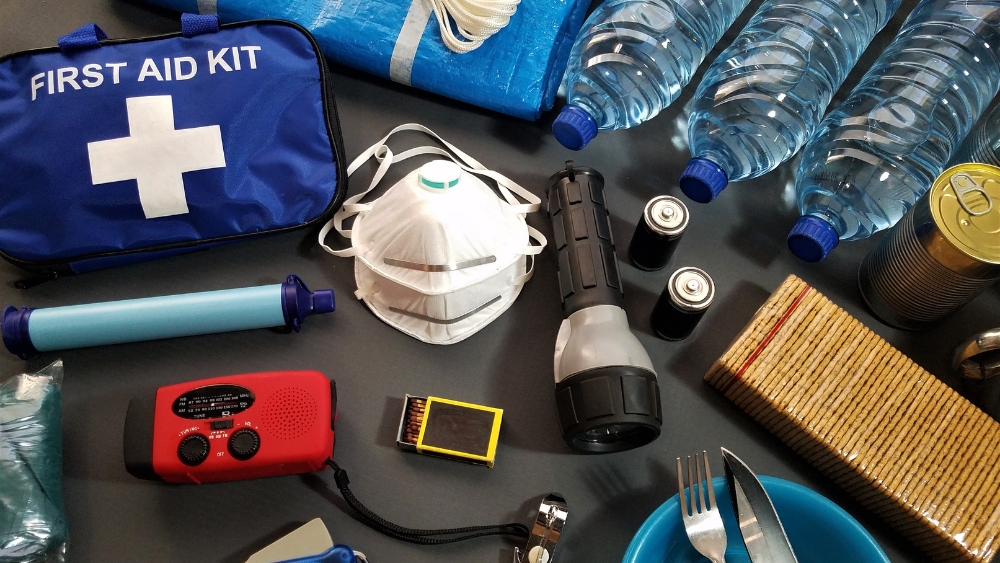 Adventure Medical Kits have great options for every scenario you could imagine. They even have first-aid kits for dogs! 
We also suggest having a good emergency water filter, as well as at least a spare gallon of water on hand at all times.
Depending on the kind of driving you plan to do, you may also need to think about the tools you'll carry and how much recovery gear is necessary for your travels. 
If you are traveling paved roads from the city to your next camp spot where you will always have a cellular signal, a basic set of tire changing tools and a few emergency lights is sufficient.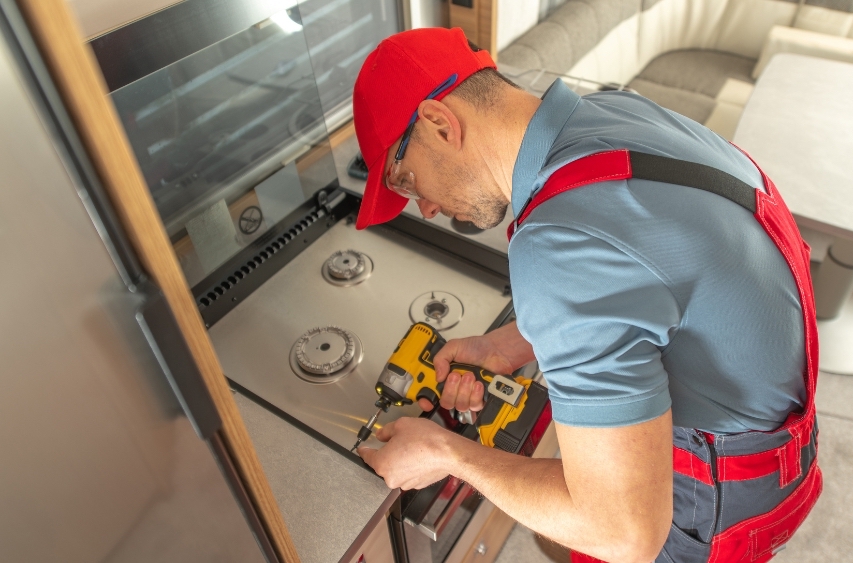 If you plan to travel to remote destinations by yourself, make sure you are self-sufficient and have the proper tools for self-recovery on board. Things like a shovel, and traction boards are a great start.
We highly suggest having a jump starter with a battery, in case you need a jump and there isn't anyone around to help. A basic emergency tool kit for your van will come in handy in a pinch, but if you plan to do basic maintenance on your van yourself, we suggest you build a tool set yourself that aligns with your specific needs.
Many people overlook the security aspect of their most vital possessions when living or traveling in their adventure vehicles. You'll want to consider where you will keep your irreplaceable items like your birth certificate, personal documents, and treasured family photos and letters. 
Some people opt for a safety deposit box at a bank, which is a fine solution, but it may come with a little cost. If you do choose this option, just make sure you keep your key somewhere safe.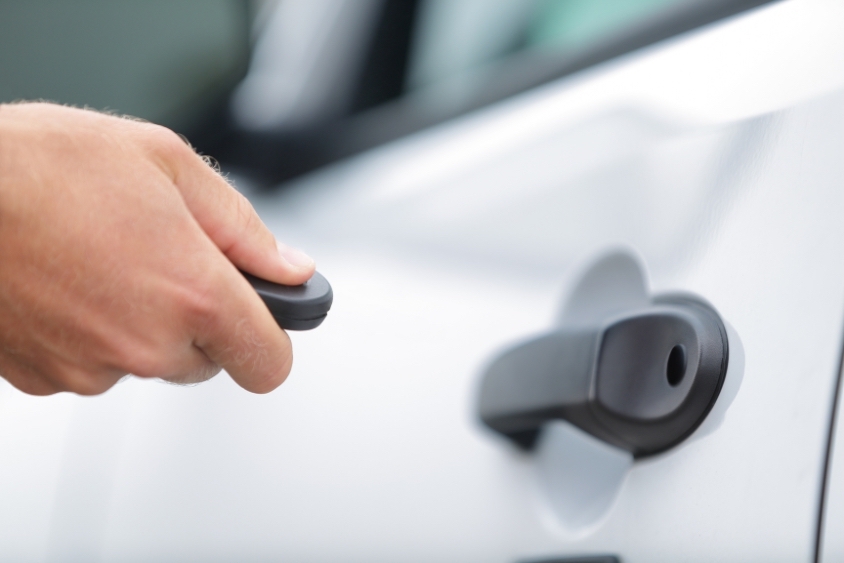 Most modern vans have some onboard alarm system that can deter or scare away potential thieves. If you don't have a more modern security system, you can take precautions a different way by utilizing a steering wheel lock or even adding in a dash cam. 
Small floor-mounted safes are wonderful solutions to keeping your most precious documents and belongings safe in case of a break-in or vehicle fire. You can mount them easily under a seat or in a cabinet, and thieves will be less likely to grab them since it's mounted to the floor. 
We're big fans of WhereSafe GPS which is a great option for tracking your vehicle in the event it was stolen. It's also good just to let family and friends know where you are at all times.
The Final Item for your Vanlife Checklist
So what's the most important van life must-have item for your vanlife checklist? YOU! Now that you're packed and ready to hit the road, just remember to do your research, trust your gut, and have an open mind to all the adventure that awaits. 
We can't wait to hear how you Find Your Outside!™