What is ModVans about and what is your mission?
We're an RV manufacturer that specializes in modern and modular camper van components. We build one model—CV1—which has the pop top, as most would notice. CV1 comes standard with seating for 5 and moveable RV components to align with your needs.
Update: Modvans now offers the MH1 and MH1/X series vans, which are taller and built on a longer van chassis than the original CV1 model. The extra space allows for a bigger floorplan and kitchen space.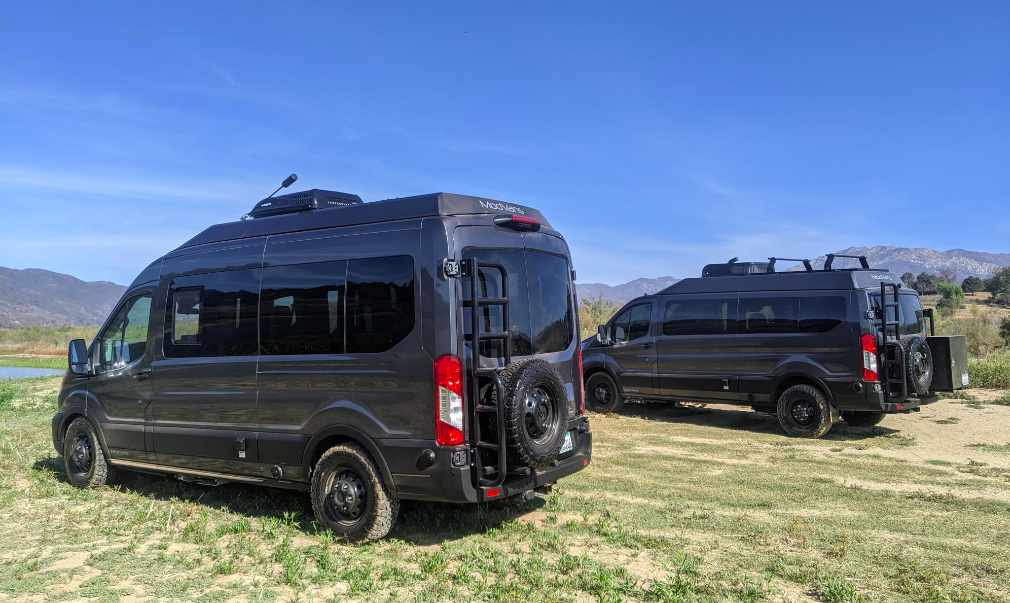 Maybe you need to move a friend and turn the van into a cargo hauler, but then gear up on the weekend for a camping adventure. ModVans allows you to adjust the interior of your van as your life adjusts.
We're an employee-owned company so we all have vested interest in making our customers happy and delivering a quality product to the market. We want everyone to have a ModVan.
What's the backstory on how ModVans got started?
Laurie and I (PJ) bought a Class C RV class C—we had kids and a complicated life. We took a month long trip in the RV and really enjoyed it. When we came back to reality, the RV was sooo big. We had to pay to park it and then it was a hassle to go get it. Not to mention it was hard to drive and very bouncy. JUST BIG. All of that could be livable if we had the lifestyle for that, which some do. 
However, for us, it was more about weekend warrior stuff. It was so big we couldn't even take it snowboarding for a small trip. We sold it after a year. I was also snooping around other vehicles at campsites and spent a lot of time researching. I wanted a pop-up camper on the Transit and at the time nobody was really doing it as a RV. We ended up on a one-year wait list for one of the van builders that does a pop top.
At the time, I was consulting and had this empty Transit van. I also had some down time so I started doing it myself. People thought I was crazy for using the modular aluminum components but I tried it anyway. 
Then, one day our friend made a comment about starting a van building business. After building and learning, and a few years later, we built a website and people started reaching out. We decided to go after the RV side of things so we could scale from a small shop to many and leverage the rules and laws around RVs. The goal was to get 3 builds at first but in a few weeks we had 5 on order. We started shipping vans in June 2018 and here we are now with a year wait.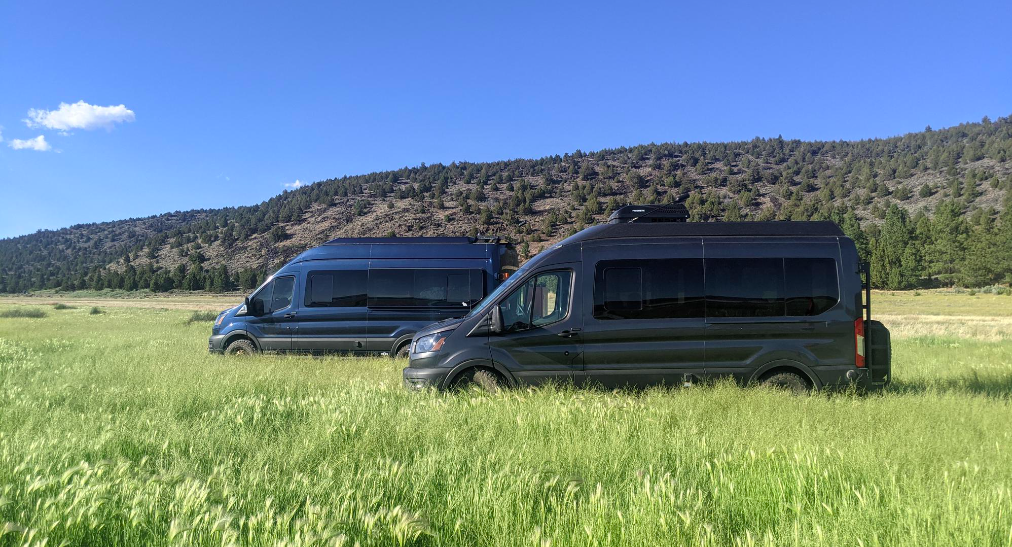 How did ModVans change from when you started it?
We really continue to change our process and our technology. We are constantly changing our approach and challenging our own thoughts. The toilet, as an example, has changed 3 times in just a year alone. We listen to feedback, learn, and take it to market.
You're opening your business for outside investment. Why are you going after outside investment?
We had a big meeting last summer and two directions we could take because we knew we could keep business going. We had to decide the next step in the company. My background was in software and startups. I showed them our business plans. We had interest and recommendations for outside investment. We went back to the team, and we all agreed to pursue outside investment. The company could save profits from building vans one at a time or we could go right after the investment to help scale immediate growth. We decided to move ahead with equity crowdfunding—working on the start engine platform—to start funding. We hit $130,000 of funding as of this interview. We take the investment in waves so we can scale for team members, parts and supplies.
You've had an amazing start with so much publicity and orders. As a business, where do you see yourself heading in the next 18-24 months?
Our growth plan is to move from building 2 RVs a month to 10 RVs. We're confident that is no problem and not inflated—we're actually understating that. Once we get there, we have another reflection point about next steps—similar to when we decided to gain outside investment. Our tentative plan would be to raise another round for the next level: improving our versions and models. Since we went after RVIA certification, customers can finance the vehicle over 20 years. On a modestly priced vehicle, that is an attractive figure to most buyers.
What do you like most about your job and business?
We love being our own bosses and working with an employee-owned team. We really created a family environment at work and that's one of the things we love about this. We like building relationships with other people. The day we deliver a van—we see our success and we are making people happy, to the point that some of our customers have invested back in ModVans by not just buying a van but investing in our business.
What advice would you give to customers looking to find a van builder?
If you're going to do your own van, we're all for that. Don't underestimate how long it takes if you're doing it yourself. We just happened to be at a special place in our life to be able to build our first van. Otherwise, it takes a lot of time to do it. Do your research. If you go with custom builders, make sure you manage that as contract. Check references, ask around, and protect yourself. Be realistic about the approach and how you're going to use the van. Lastly, the important thing is about communication—it's about how you communicate with your builder and also how they communicate with you.
Ok, enough talk about shop. How about some fun questions:
Money being equal, what's your dream van setup?
Laurie: Yosemite, but not the big crowded camp ground, and camping on the Pacific Ocean for the breeze and waves.
PJ: Ditto. Bishop/Mammoth area—snowboard and then come down to rock climb.
Most essential gear that you bring van camping?
PJ: Running shoes are probably number one. I can hike to climb and climbing shoes are second.
Laurie: A cozy warm sleeping bag.
We couldn't agree more, Laurie!
For more on ModVans, check out their website or view them in our directory under Van Builders.