David and Janine were full-time van lifers before deciding to have a child. Both are avid outdoors people, creatives, and business owners. David is one of the original founders of Explore VanX, so we thought it would be appropriate to share a story about their experience trying out van life with an active toddler. 
We put together a little Q&A with them to talk about some of the biggest questions that are asked by working parents who want to travel with their kids. The biggest one is simply, how do you do it??
Read on to learn what worked for David and Janine while traveling with their two-year-old toddler, Summit.
Tip #1: Try Van Life as a Couple First
How did you know you could handle camping with a toddler while also working?
We lived in a van full time prior to having our son, so we were pretty accustomed to balancing work and van life. To be honest, adding a toddler to the mix required quite a bit of adapting on all our parts.
We are used to remote work and have been doing it for years now. Challenges happen every day, mainly with cell service for internet hot spots. We were prepared for those challenges, but this trip was different. Not having traveled in this way since the start of COVID, work seemed harder to sit down and commit time to. Simply wanting to be outside and hanging out with Summit rather than accomplishing work was very difficult, mentally.
Tip #2: Use Toddler Shift Rotations
With you both working full time, who watched Summit?
Shift rotation was the ultimate solution, which was what we did mostly at home anyways. The planning seemed harder in the campervan since we just wanted to spend quality time with Summit and go explore.
I (David) worked early mornings while Summit still slept. Then we took turns throughout the day so Janine could work on her photography.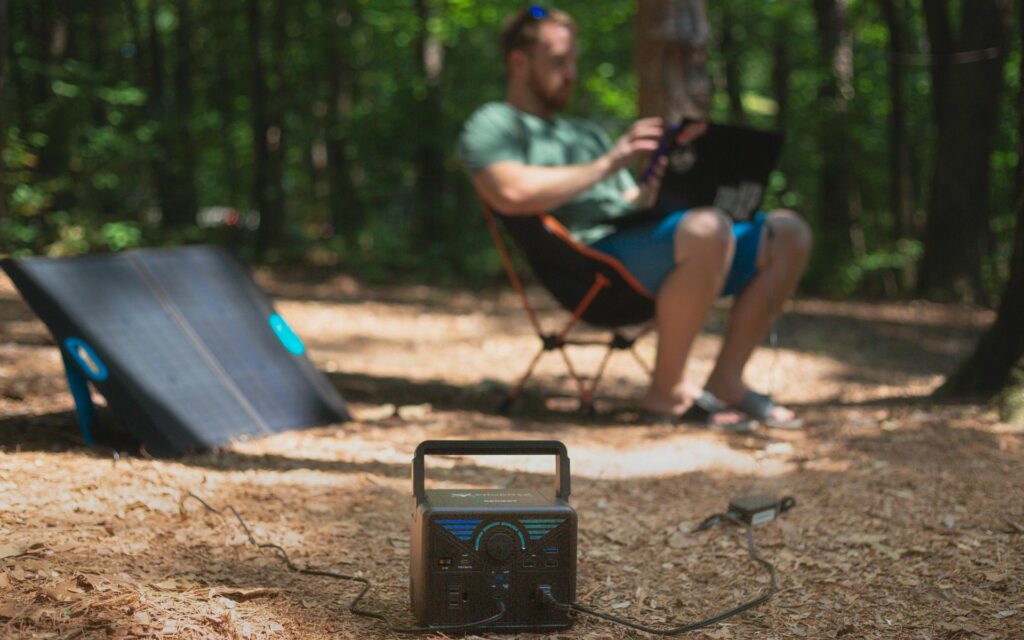 Tip #3: Bring Toys and Plan Lots of Stops
How did you keep Summit occupied?
We're very lucky that Summit is easily entertained. He enjoys his toys sometimes but will choose a book or throwing sticks into a stream over his toys any day. Van life gives him that freedom. We were able to find parks and pull-offs where he could enjoy himself while still having good cell service for our hotspots.
Summit's favorite things are sticks, rocks, and exploring. Books and toys will only keep him happy for minutes, while being outside can for hours. He's the perfect van life toddler!
Tip #4: Plan to Work for Shorter Periods Throughout the Day
How long were you able to work before needing to care for Summit?
Normally we would take 1-2 hour shifts. We also made sure to take short breaks and switch off when needed to make Summit food, move spots, and take mental breaks. Communication between us both is key, and adjusting as needed is crucial.
Were you able to get as much work done as you'd hoped?
Yes, but it was stressful. We will go into it with a better mindset and plan next time to work more efficiently together as a team.
Tip #5: Expect the Unexpected, and Don't Get Frustrated
What advice would you give other parents?
Traveling with kids is always more difficult. When you take the kid out of their element, they may act differently or regress from things like potty training or sleep schedules. Be ready to roll with the punches and not be disappointed if the plan does not go as intended. Remember that the experience you give them could be how they view camping and travel for years to come.
What advice would you give a single parent?
We give props to all single parents in general. In this case, having a rental van and a self-contained living space on wheels we feel could make everything about traveling much easier.
We think that traveling by van or camper could help keep stress down. It can cut down on time spent setting up camp, cooking, or moving things in and out of a hotel. Everything is right there and easily accessible. We find it an easier way to travel and a more exciting way to see the world.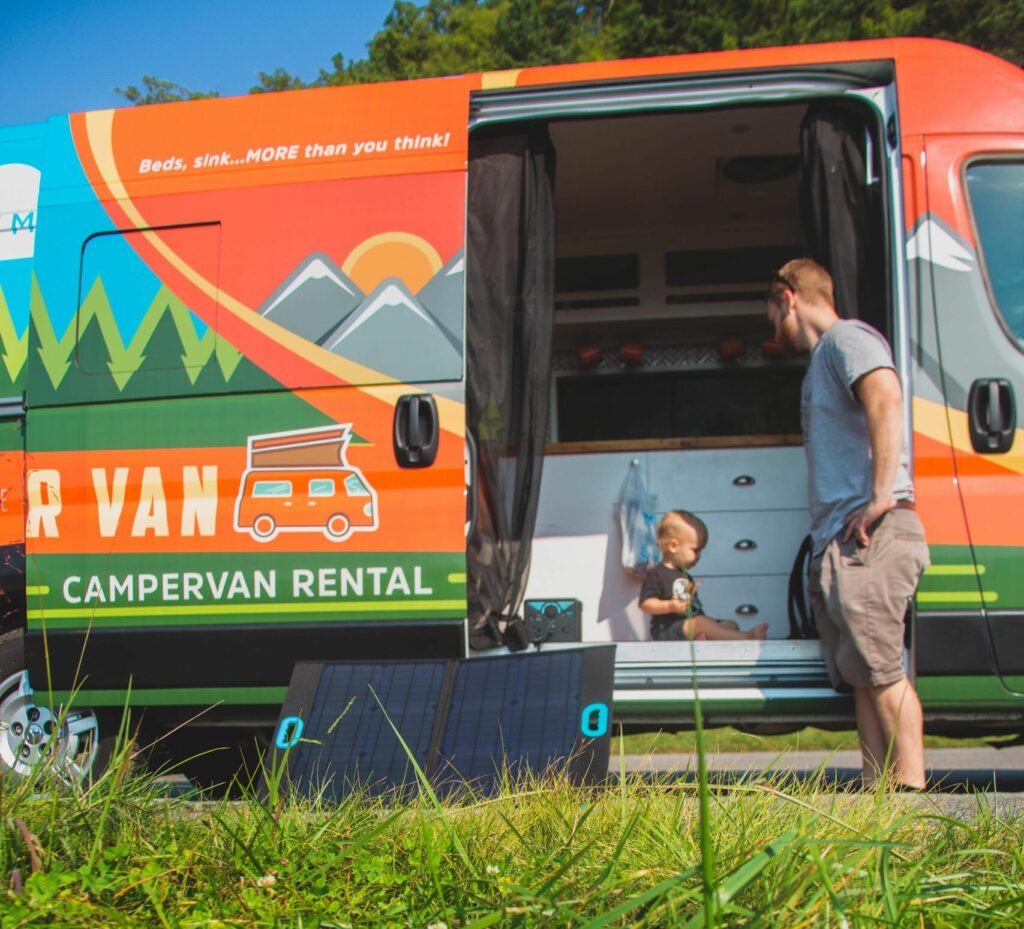 Tip #6: Slow Down and Know Your Toddler's Limits
What's the most important thing you learned on your trip?
Van life with a toddler is as much parenting as a balancing act. We learned that we must live slower and read our son's signs to know what we need to expect. Learning when he had reached his limits for the day or even the moment can change how the overall experience impacted him. With this in mind we also need to be ready to pivot plans.
The memories we made on our trip made it all worthwhile. Having the ability to work from anywhere with our son with us is priceless. Don't let the challenge stop you from having some of the best family experiences while traveling and learning together!
Interested in renting a campervan? Visit our rental directory to find the perfect campervan rental near your next travel destination.
We want to thank sCAMPerVan and Renogy Solar for powering this trip!
So How Was Van Life With a Toddler, Really?
All the tips are great, but what was the reality of taking a trip with a toddler in a van for the first time? Were the tips gained from a catastrophic failure, or were they things that Dave and Janine pre-planned to make a flawless trip? 
Dave wrote up an account of the entire trip to share how van life with a toddler really was, including their complete itinerary. Even if you're not planning on taking a toddler camping, you might be interested in the route and attractions for yourself!
The Story: Attempting Van Life With a Toddler
Two years ago, we had our own campervan and traveled for weeks on end. We were even full-time "van lifers" for an entire year before deciding to pause the lifestyle and focus on having a family. One of our last long trips in a van was when Janine was five months pregnant with our now two-year-old son, Summit.
Now that Summit is a toddler, we decided to take him and our dog, Luna, on an inaugural campervan trip. For pure nostalgia, we decided to take a route through the Blue Ridge Mountains, which was an area we explored when Janine was pregnant.
Since we didn't have our own campervan anymore, we decided to utilize a rental campervan option. We easily found a perfect option for our family through Explore VanX's campervan rental directory.
Itinerary & Destinations While Traveling with a Toddler
This being Summit's introduction to van life, we chose the Smoky Mountains and Gatlinburg, Tennessee, to be the highlight of the trip. We didn't get a chance to see these locations the last time we were in the area. It was fun to plan a return trip, and we were excited to share the experience with Summit.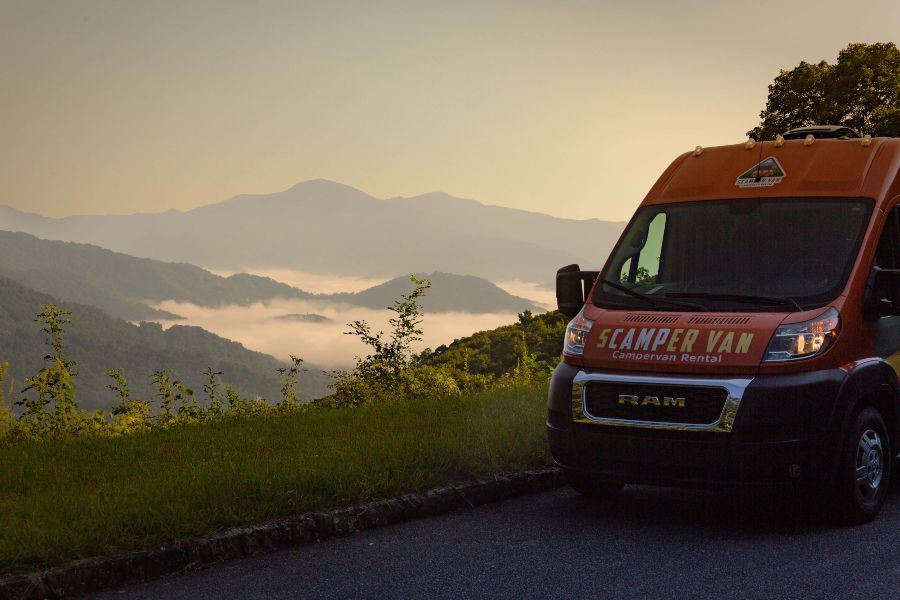 We had gotten a recommendation about Lake Jocasse and Devils Fork State Park, so we decided to book two nights there and hoped to Boondock the rest of the nights. In our previous experiences, boondocking always took some work. Many times we could have several spots in an area, and we would end up driving between them for an hour or more for those spots not to work out. This campervan trip was no different.
Day 1: The Hunt for a Camp Spot
After picking up the converted camper van in Atlanta from sCAMPer Van we headed North to an area near Nimblewall, GA. There were National Forest dispersed camping spots we had found on iOverlander that we had high hopes of utilizing. After stopping off at a riverside spot so 
Summit could play, and Luna could swim, we headed to the first spot we had marked.
This spot was 15 minutes from our morning destination of Amicalola Falls, the largest waterfall in Georgia. Arriving around 6 pm, we found a sign stating the entrance road was only maintained for 4wd and high clearance vehicles. This was not something we wanted to risk in the front-wheel drive Dodge Ram Promaster camper van rental, so we continued on to spot number two. This entailed another 35 minutes of driving to another spot, only to find it was also taken.
Now 45 minutes after already driving 5 hours of that day with a toddler and a dog, we pulled into a hiking trail parking lot, which was our last marked spot for the day. Luckily there was a forest road and several primitive camp spots at this trailhead, so we happily parked for the night. All things considered, Summit did okay but was definitely cranky after being in his car seat for so long.
Day 2: Waterfalls & Winding Roads
Day two brought us to an amazing waterfall and a short hiking trail. A perfect reprieve for a toddler and dog, not to mention two parents tired of driving. We did a few hours of work hooked up to our Renogy Solar set up, and then headed North to the next planned destination.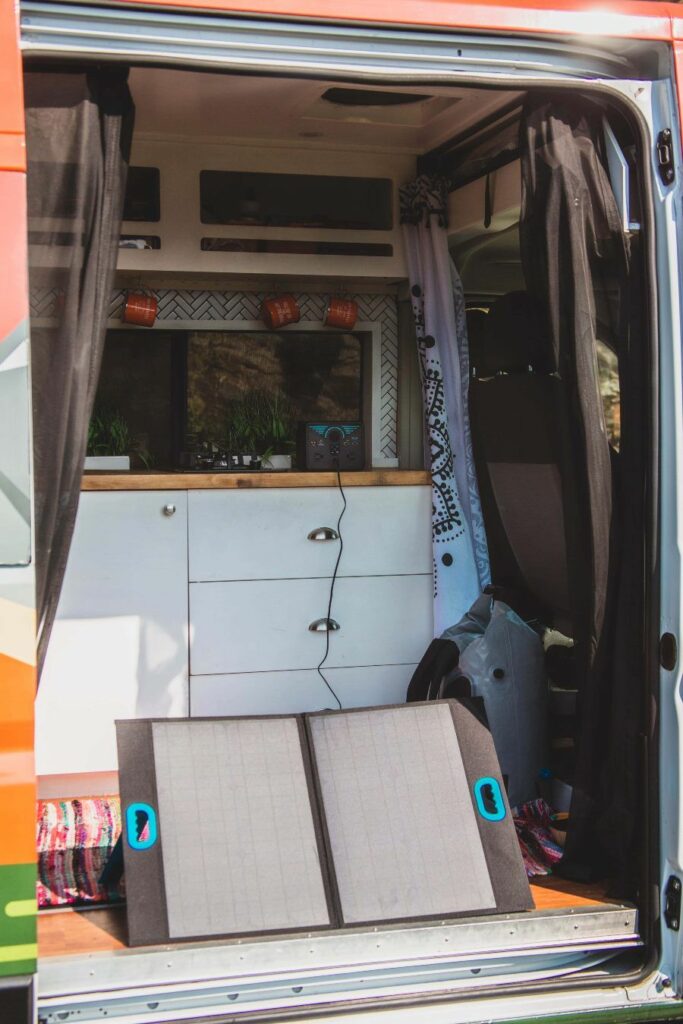 Driving the van on winding, ascending, and descending roads was a pleasure. Our campervan rental handled great, nearly like a car. We found an inviting van life camp spot at an established National Forest campground and set up camp (aka: parked). Here we caught up on work and then set up a campfire to enjoy the evening.
Day 3: Smoky Mountains & Potty Training
On day three, we headed to Smoky Mountains National Park and then planned to head to Gatlinburg. By this day, Summit had already started to tire from all the driving and fought mom and dad whenever getting into his car seat. This proved to be a very troublesome time, with multiple hours of driving planned for the days ahead.
Summit started potty training at the beginning of August, just six weeks before our trip. He understands the concept and tries to be good, but is not fully there yet. We prepared for this trip by bringing Summit's toddler training potty chair along and stopping frequently for him to be able to use it. This was definitely one of the harder aspects of the trip. Each time we would take Summit out of his car seat, he would not want to get back in.
Summit's patience was wearing thin. Having planned to stay near Gatlinburg that night but knowing that putting Summit through more driving was not the right thing to do, we discussed options. This night was supposed to be the first trial of our Harvest Hosts membership, but we had to make the choice to change plans.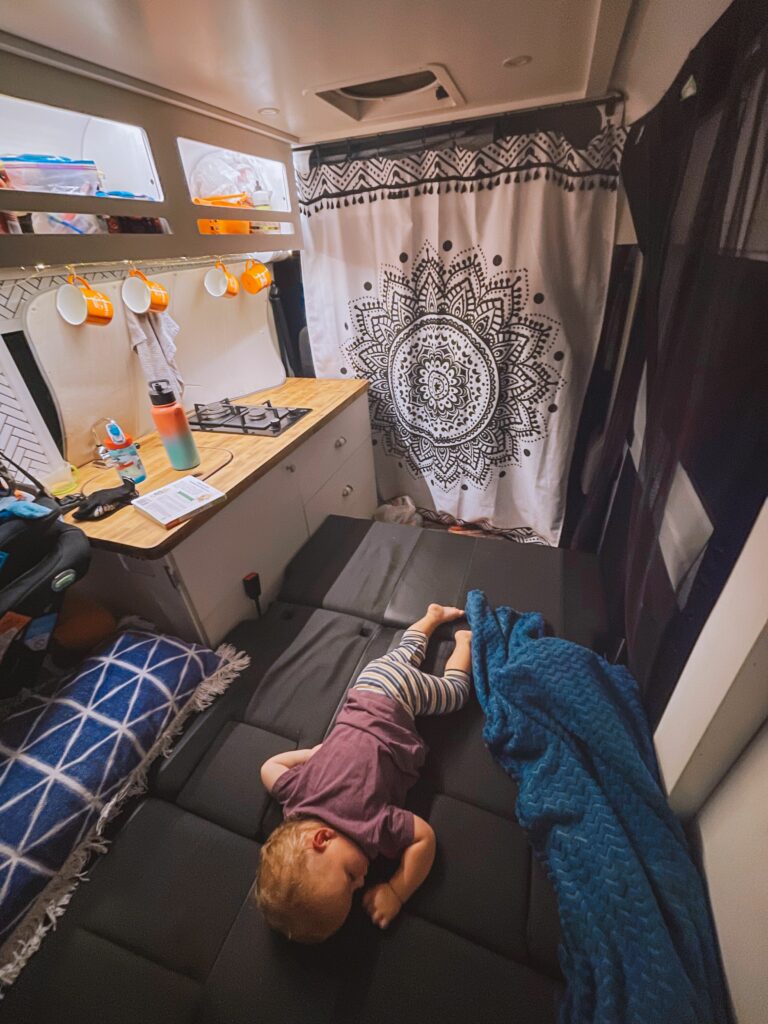 To give Summit a break, we spent the day in Cherokee, NC, and then found a quiet boondocking spot from iOverlander for the night. This was no sacrifice, and we were happy to pivot and learn from these experiences to do what was best for our son. Van life with a toddler is a daily learning experience. We toured a few parks and let Summit play in a stream, which is one of his favorite things to do. Happy Summit = happy David and Janine.
Day 4: Amazing Views & Car Seat Struggles
The following day, we set out to land at our final destination, Devils Fork State Park. This entailed another 2.5 hours of driving up and over the Blue Ridge Parkway, something we had looked forward to. We quickly learned that Summit wouldn't enjoy the scenic drive nearly as much as we would.
Taking it slow and letting Summit out every other pull-off, we took pictures and tried to make the experience as fun as possible for Summit. He still struggled with going back in his car seat after each break. Our saving graces were the motorcycles, and other RV's Summit was excited to keep seeing as we continued our route. Finally, we headed back down the mountain to Whitewater Falls, yet another epic waterfall. The park was next and our final destination.
Devils Fork State Park was exactly the reprieve we needed. We enjoyed the amenities of having showers and bathrooms nearby. Not having to worry about boondocking was a welcome break. Knowing that Summit didn't have to stay in the car for extended periods of time was relaxing.
We definitely realized that van life with Summit requires everything to slow down. Simple tasks take longer, driving has to be split up more, breaks take longer. Van life with a toddler requires more amenities along the way.
Summit was exhausted by the final day of our trip, and slept most of the 6+ hour drive back home. This was a relief since the rest of the trip revolved around monitoring drive time to allow for Summit to move around more.
Overall it was a successful camping trip with a toddler. Some things worked out perfectly, and other things we will change on our next trip. The most important lesson learned here is that van life with a toddler is definitely something that we can manage and plan to try again in the near future.
Boondocking vs. Campgrounds: What's Better When Camping With a Toddler?
For our first campervan trip with a toddler, we learned a lot. We both agree that van life with a toddler is definitely something we can do. If our campervan was more equipped, boondocking would have been easier. The hunt for the perfect spot is always challenging, but if we'd had more amenities in the campervan, boondocking would have been more comfortable.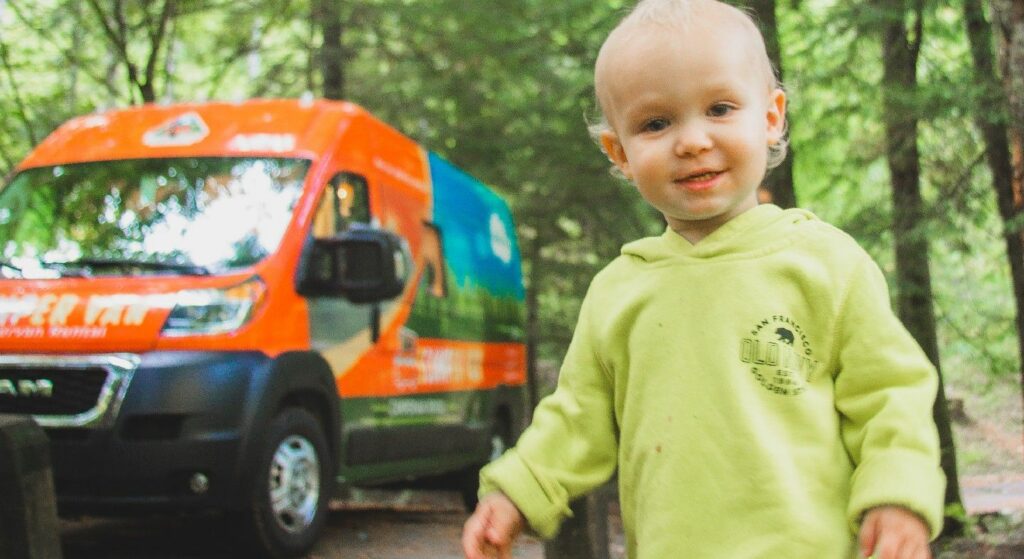 Developed campgrounds were a great piece of mind and refreshing. We had a guaranteed place to park, water, bathrooms, garbage disposal, and even showers. We knew our trip was only a week so we chose our campervan rental purposefully. It was also a good reminder that we would want a more robust setup for extended trips or full-time van life with a toddler.