Who is ROAMERICA? Adventure Van Rentals in the PNW
ROAMERICA provides Sportsmobile campervan rentals in Oregon to adventure seekers throughout the PNW.
The owners have an entrepreneurial background, and they bring tons of heart to what they do. As Gretchen puts it, "There is a lot of reward and fulfillment in hearing the stories our customers share with us when they return a van after their travels."
The Faces Behind ROAMERICA
Gretchen and Taylor Bayless truly love what they do and are no strangers to vehicle camping. It's evident in the passion and enthusiasm they bring to their business. 
They searched for secret surf spots and deep powder in their Toyota truck before moving on to a Sportsmobile van. Now, with two small children and pups in tow, they hit the road as often as possible for family adventures. 
Gretchen and Taylor's Perfect Build and Campspot
We asked Taylor about his ideal van build—money being equal. At first, he mentioned an EarthRoamer but quickly took it back as if to say, 'even in my dreams, I don't think we really need that much.' 
He finally told me that a 2010 Ford F350 4X4 Econoline conversion with an extended body would be his choice. "Customized for a family of four and two dogs. Something simple, clean, and affordable to operate outdoors. Outfitted with solar power and the kitchen basics."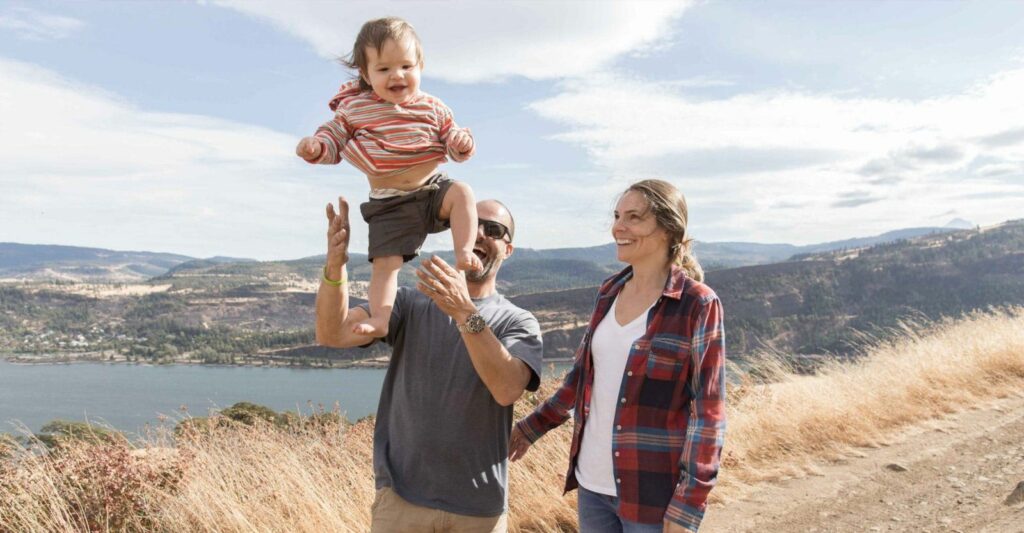 When I asked about their ideal place to camp, Gretchen and Taylor said "Mexico" in unison, leaving no doubt they are on the same page about their leisure time.
But we wanted to know more about what brought them to start ROAMERICA.
It turns out, the seeds of their business began to sow around 2013 when they started getting requests from friends to borrow their 4×4 campervan to take on trips and vacations. As people went from casually requesting to borrow their van to outright demanding time with it, they realized the opportunity was ripe in the Pacific Northwest for quality rental vehicles. People wanted to access the outdoors while still taking along the comforts of home.
Gretchen and Taylor began making plans, and ROAMERICA officially launched in 2016. Once things started moving, they moved fast. Gretchen and Taylor left their stable jobs to pursue this new venture full-time. 
When it comes to running a business that is every bit a labor of love, the rewards are often more about the enjoyment the company brings than the bottom dollar. It's easy to justify a job you dislike because you get a paycheck every couple of weeks that allows you to do other things.
However, when you start a business that dovetails with your passion, the rewards can sometimes be more difficult to quantify. How do you put a number on the joy you get hearing people's stories about the trip they just had in one of your vans? Some days that isn't so easy. At the end of the day, it's about the feeling you get—the way you just know you're doing the right thing—and the quality of life that comes with bringing your career and passion together.
Gretchen and Taylor are honest, thoughtful people who enjoy the outdoors. Their mission for ROAMERICA is to get people outside and help them do that safely and comfortably.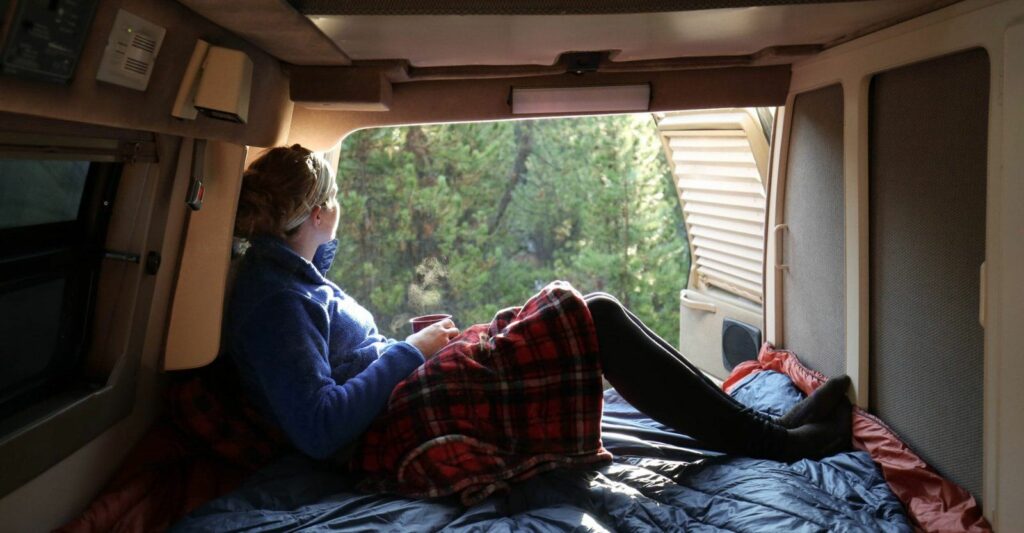 Challenges of Running a Van Rental Business
When we asked about some of the more difficult aspects of running the business, their response was true to them and ROAMERICA. Gretchen told us that the biggest challenge they face is weeding their way through the work. 
"Time management is critical. Running this business presents several other opportunities each month, and distinguishing the work that needs to be done while tabling the other potential opportunities, can leave you wondering if you are focusing your attention in the right areas."
Gretchen and Taylor agree that they have improved as business owners over the years. Most importantly, they have become better at recovering from their mistakes. Recognizing they made the choice to start this business because of their love for the van life community helps keep their vision and business on track.
ROAMERICA Expands and Gains Momentum
As their business has grown, so has momentum around the van life community. For ROAMERICA, this means working to develop new avenues for their business, including adding additional vehicle platforms, establishing ways to purchase vans directly from them, and of course, expanding their rental fleet. 
And as if that wasn't enough, they've created a new business building custom vans for clients.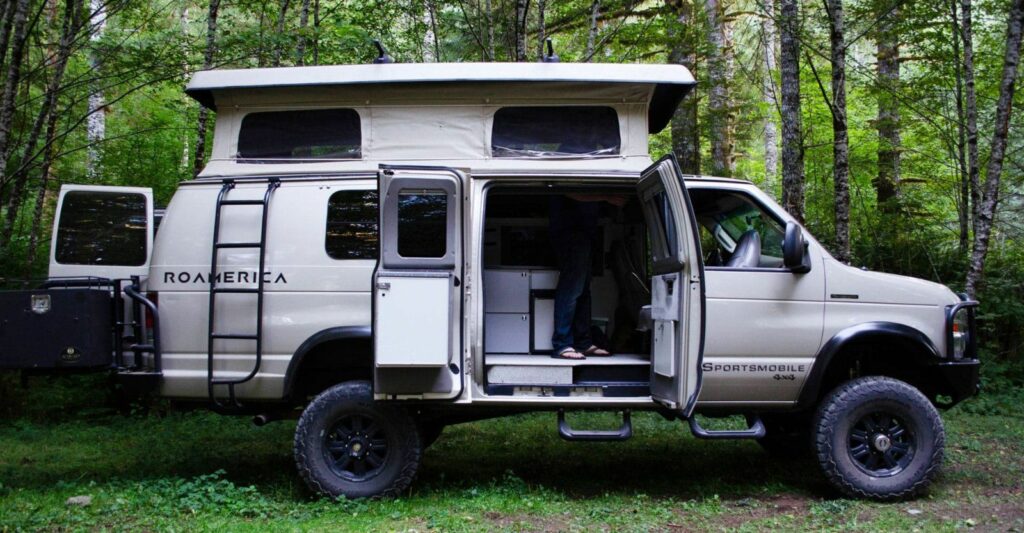 With the excitement of new ventures comes a new set of issues to tackle. Taking on more business means they may be outgrowing their current location. Having small children around makes keeping the work environment safe a bit more difficult.
What to Consider When Reviewing Campervan Rentals in Oregon
We asked Gretchen and Taylor what advice they would give to someone looking to rent a van for a Pacific Northwest vacation. They told us that if you are planning to explore with your campervan rental in Oregon, they can assume that you want to be able to take full advantage of the outdoors. Renting a van capable of getting you to the good spots is key. 
"Know what you want to accomplish. Do you need a van that is set up for cooking? Do you need a heater for camping during cold nights? Do you need car seats? What is your budget?" 
These are all important factors to consider when planning your trip. 
Next would be to do your research on breakdowns. What is a company's policy if one of their vans were to break down on you? They receive a lot of calls in the summer from people who are broken down and have just learned that the company they rented from doesn't help when one of their vans breaks down.
Taylor is adamant that "in most cases, simple is better. It seems better to get all the bells and whistles, but most people won't use most of the systems that a fully outfitted vehicle offers—either because they don't know how to use it or because they didn't have a need for it."
Super complicated van builds might appeal to the seasoned van life veteran, but for most people just looking to rent a cozy place to sleep and travel to cool campsites, simple van builds often offer the best experience.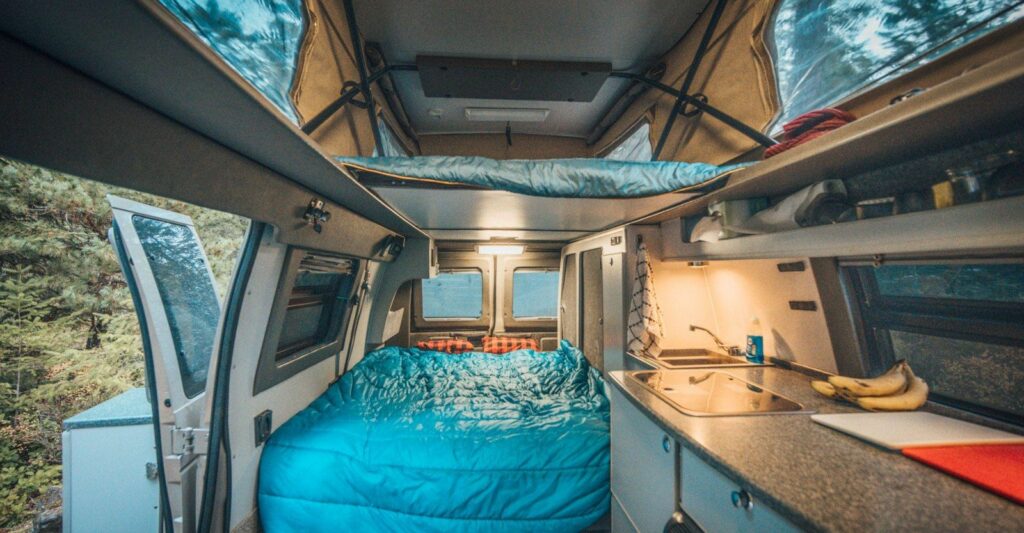 Staying Safe in Your Campervan Rental
While ROAMERICA wants to make sure you have a great vacation, they also take your safety very seriously. They make it a point to stress the importance of proper first aid and awareness about potential local hazards. 
Gretchen was in the trenches with Lyme disease when they started the business. They go out of their way to educate their customers on the risks of being outdoors and how to prevent and handle harmful situations properly.
It's just another example of not only who they are but how they run ROAMERICA—two honest people who care about your entire experience, not just the bottom dollar.
Book Your ROAMERICA Campervan Rental in Oregon Today!