Kuku Campervans make Colorado's amazing outdoors accessible to everyone! They want to ensure you can experience all that Colorado offers –  an unparalleled outdoor experience. 
Colorado is a state with abundant outdoor riches that include 12 National Parks and Monuments and 13 National Forests and Grasslands. An outdoorsman paradise. We're Kuku for Coloardo!
One of the best ways to explore a place saturated with great locations is to dive head-first into the outdoors and rent a camper van. It's an affordable and intimate way to experience the landscape and meet the people who preserve and form the local culture.
Who are the People Behind KuKu Campers?
Kuku Campers is a global van-rental company with a stateside headquarters in Denver, Colorado. 
Recently, I had the opportunity to speak with Seymour and Magnus from Kuku about the business of renting camper vans. I learned about their focus on creating the perfect way to vacation on a budget—exploring wild places and cultures without sacrificing comfort, style, or fun.
Magnus told me that everyone at Kuku has "a strong love for BLM and dispersed camping off the grid. Ideally, with a solar set up, hot water, and a toilet on board." If that doesn't give you a line on the kind of company you're doing business with, I don't know what will. They understand the rugged desires of their clientele and are working to fulfill their customers' leisure requirements.
How KuKu Campers Has Grown Worldwide
Kuku Campers started in 2012 with just one Renault van for rent in Iceland. Since then, they've grown internationally to a fleet of over 400 vans. In 2017, they opened their US flagship office in Denver, Colorado, and have grown exponentially since.
In the two years since opening their Colorado location, a lot has changed. They've overhauled their website, made the booking process more user-friendly, and expanded their customer service sector to improve the overall experience. 
If that weren't enough, they upgraded their van builds and are ever-improving van layouts and vehicle platforms. From an operations standpoint, Kuku Campers moved all of their builds under one roof in Colorado, allowing them to expand their team and improve quality control.
Seymour and Magnus tell me these improvements and upgrades lead to a more complete experience for both the team at Kuku and their customers. Their growth has allowed for a more immersive experience that goes beyond just a rented mobile hotel room. The entire experience becomes a more memorable one. 
Ultimately, they want to provide their customers with the tools to have fun. In many cases, that's more than just a quality van rental experience—it's a great campsite and trail recommendation to go with it.
KuKu Campers Has a Campervan Fit for Everyone
Kuku Campers in Colorado offers six different types of campervan rental options. In no particular order:

Kuku Campers really does have something for everyone, and thought of every detail that a new explorer might want. Rigs are stocked with camp gear like cooking and eating utensils, and some come equipt with heaters anticipating Colorado weather.
Growing Pains of the Van Rental Company
Though their growth has been consistent and impressive, it hasn't been without its challenges. Seymour and Magnus have little doubt that the people who work for Kuku love what they do. 
One of the hardest parts about running their business is having to turn down a potential customer due to the unavailability of their vans. During their busy season in Colorado, Kuku is often fully booked and must turn people away. A tip from the pros: reach out early for reservations.
Being an international brand also presents its own unique set of hurdles. It takes time to put down roots in a new place. In the very competitive world of #vanlife imagery, creating a recognizable social media presence is also a huge challenge. However, Magnus credits their strong team—who are committed to staying true to their mission—for their ability to overcome these obstacles.
The Future is Bright for KuKu Campers
Like many people who found their way into the van-rental business, they feel that getting out into the wild on your own, in a camper van, is the best way to learn more about this kind of travel. Even better, renting from a company like Kuku gives you peace of mind that there's a committed team of people there to support you.
Whether you have questions, need support on the road, or find that you love it so much that you want to get a camper van of your own, Kuku is there to help. 
They now provide kits to build your own van. They've built a strong business on the foundation of their knowledge and enthusiasm, making this the next logical step in expanding their wisdom.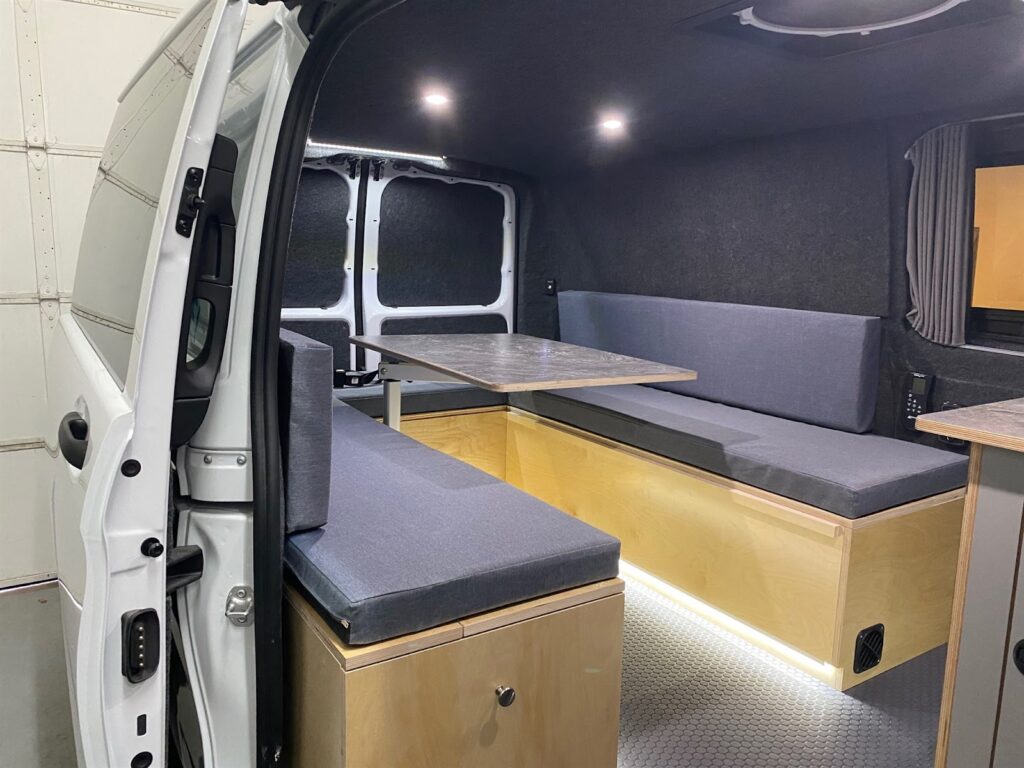 Despite many changes over the years, Seymour and Magnus assure me that some things are always the same at Kuku. They're consistently looking to keep prices low with no hidden fees, provide outstanding customer service, and ultimately connect people with a one-of-a-kind vacation experience. They continue to be one of the only companies to offer free unlimited miles on every rental.
The future looks bright for the Kuku Campers team in Colorado. They're expanding to another location soon, adding more vans to the fleet, and are focused on continuing to grow their brand virtually. At the root of it is one goal: getting their customers to explore more terrain and elevate their adventures to new heights.
For more on KuKu Campers in Colorado, check out their website or their listing in our directory under Van Rentals.